Sarah's work has been exhibited and published nationally and internationally. Her photographs have been included in group exhibitions at SF Camerawork (San Francisco), Filter Space (Chicago), The Reference (Seoul), Polygon Gallery (Vancouver), and theprintspace gallery (London). Sarah has participated in publications issued by Halfmoon Projects (Chicago), Oranbeg Press (Brooklyn), Soft Lightning (Brooklyn), Nightbird Zine (NY), Quiet Pages Press (PA), Goldenrod Editions (NY), Don't Smile (FL), Funny Looking Dog Quarterly (Chicago), and Pine Island Press (Portland, OR). Her work was selected for participation in
Broadside
, a Covid-19 photo poster fundraiser coordinated by
From Here On Out
.
Sarah was shortlisted for the 2019* Palm Photo Prize and was a FOTOFILMIC18 artist. Sarah served as primary author and project coordinator for
Simple, Dark, and Deep: Photographic Theorizations of As-Yet Schools
, a collective, peer-review journal article published in August 2021 by Postdigital Science and Education. The article combines photographs and texts by 25 creatives and thinkers to imagine possible futures of schooling.
You can access a PDF copy of the article here.
She contributed photographs and writing about the intersection between disability, the social model of disability, and Covid-19 to collective, peer-review journal articles published by Postdigital Science and Education in 2020 (
online version here
) and 2021 (
online version here
).
As of December 2021,
her work
is part of the
Midwest Photographers Project
hosted by the
Museum of Contemporary Photography
.
Sarah earned graduate degrees in Art Photography from Syracuse University (MFA, 2014) and Arts in Education from Harvard University (Ed.M., 2011) and a BFA in Drawing from Pratt Institute/PrattMWP (2005).
Full CV available for download via the PDF icon above.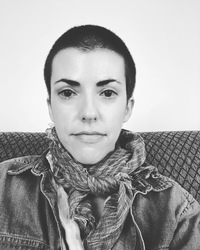 Links to online features:
2020
Booooooom
2019
Photo-Emphasis
2019
From Here On Out
2018
Streit House Space
2018
FotoFilmic
2014
Light Leaked
2014
Light Work Blog
2013
Excerpt Magazine
(Issue 6)
2013
TagTagTag
Thank you for stopping by! Please don't hesitate to reach out if you would like to work together on something.