Now available!
I'm super excited that TK2: Sarah Pfohl is now available from Halfmoon Projects. TK2 is a 24-page zine that features a new edit and interpretation of my ongoing project The forest rests also in you and my first "solo" print publication. You can order a copy here.
---
On view September 15–October 21, 2017
I will have 2 photo-based collages in the exhibition we like small things at Filter Space in Chicago, IL. The exhibition will be on view during Filter Photo Festival and have an opening reception on Thursday, September 21 from 6-9 p.m. Jennifer Keats, Director of The Donut Shop, juried the exhibition.
---
April 2017 - 'Moments that stay' by Oranbeg Press
I have 3 previously unpublished photographs in Moments that stay, a new project by Oranbeg Press. Moments that stay takes multiple forms, the edit is different in each form. A Moments that stay book is available through Oranbeg Press. An online exhibition, Oranbeg NET 2.4: Moments that stay, can be viewed here. A PDF version of the project is available here (scroll down!). John O'Toole edited each version. The image above is the 'cover' of the online exhibition, the photo on the cover is by Blythe Cross.
---
On view March 15-May 15, 2017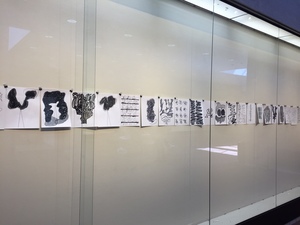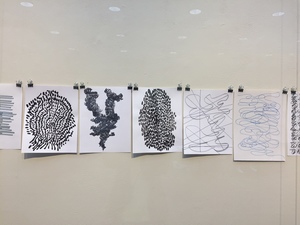 I'm excited to present a solo exhibition of 95 drawings from my Drawings on teaching project at the Delta College Galleria in University Center, MI. I'll give an artist talk on Monday, April 10 at 1:30 in the Galleria.
---
Spring 2017
A Dark Wood traveled to The Noyes Museum of Art of Stockton University in New Jersey. The exhibition was on view from January 13-April 23, 2017.